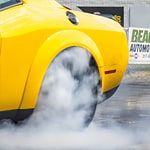 Many cars look the same these days. That can't be said for the Dodge Challenger. This the muscle car that is bold in so many ways. Simply take a look at the Challenger's exterior. This is a vehicle that plays by its own rules. Here are two top exterior features available on the current model Challenger.
The Challenger offers a blacktop stripe that runs across the hood and the truck of the vehicle. It's one of the only production vehicles that offer these intimidating style stripes on its exterior. To enhance the style and the performance of the vehicle, the Challenger also offers illuminated air catcher intakes on the grille. This unique style point is sure to make the Challenger stand out.
See why more and more true driving fans are buying the Challenger. Take it for a test drive at Rz Motors Incorporated. You can get a great deal on the new Challenger of your choice.