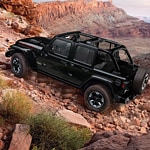 From its finely crafted interior to its athletic appearance, the new Jeep Wrangler is a sight for sore eyes. This compact SUV is very popular among people of all age groups and for good reasons. Consumers can choose from a myriad of trims, drive with confidence as well as enjoy the available tech components.
The new Jeep Wrangler has near-perfect dimensions for its outer façade. Jeep utilizes a good combination of round and square figures to create a more unique look. The vehicle's LEDs will come in all shapes and sizes. The brand's Seven-Slot grille is still present at the front of the vehicle as it does a great job of setting the tone. The new Jeep Wrangler also possesses foldable and removable windows that will provide an open-air feel.
Test drive the new Jeep Wrangler by visiting our showroom as soon as possible. The ball is in your hands, but are you willing to take the last shot?